4 Reasons Why Wills Are Contested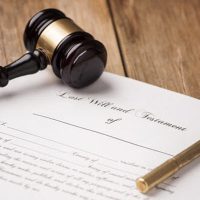 One of life's necessary but unpleasant topics to think about and act on is end-of-life planning. Contemplating about one's own demise or that of a loved one is not a pleasant subject, but establishing an estate plan is a critical action that individuals should do while they are in good health to better ensure their wishes are carried out the way they planned. Without an effective estate plan in place, heirs may have to suffer through a long, costly legal battle before they can have access to their inheritance. And, even when heirs do finally secure their inheritance it may be much less than they should have received, or it could be distributed in a way that was outside of the decedent's wishes. If you have issues with the handling and outcome of a loved one's end-of-life documents you may decide to contest them.
When legal challenges to end-of-life documents arise, it can be very stressful. Whether you would like to contest a will or if you suspect misconduct on part of the trustee, you can take your concerns to Harry D. Lewis. As a trusted and skilled New York City estate and trust litigation lawyer, Harry D. Lewis offers reliable and informative legal counsel to help you resolve your situation.
Why Do Contested Wills Happen?
When it comes to dealing with death and wealth, emotions have the potential to run high and as a result, there could be disputes that take place between family members and friends. This is why it is so important that individuals take care to put together an estate plan with a talented and experienced estate planning attorney. Doing so can make sure that their will is written in such a way that can minimize the chances for legal challenges to come about after they pass on. But if there are questions about a will by beneficiaries, legal challenges may ensue.
There are several reasons why loved ones may have inheritance disputes and contest a will including:
The Will is Legally Invalid
A will must abide by New York state last will and testament laws to be considered legitimate and lawful. Wills must be written and signed by the testator, or the individual making the will. Also, two independent parties should bear witness to the writing and signing. Additionally, if there are even minor adjustments to the will and the Court was not informed with a signed and notarized affidavit explaining why the adjustments happened, the will may be invalidated.
The Testator was Unduly Influenced
If a vulnerable person was unduly influenced by another party to preclude certain beneficiaries and include themselves instead, the will may be contested.
Fraud
The testator was influenced when making their will with misrepresentations and falsehoods.
The Testator was of Unsound Mind
The testator made the will having diminished mental cognition to do so. Certain disease conditions like dementia or being under the influence of alcohol or drugs can affect the legal soundness of the will.
Speak to a New York City Estate and Trust Litigation Lawyer
For professional help dealing with matters of dispute with a loved one's will in New York City, you can count on the experienced New York City trust litigation attorney at The Law Office of Harry D. Lewis. Call today to schedule a free consultation at 212-859-5067.
Source:
nycourts.gov/courthelp/WhenSomeoneDies/will.shtml