Alternative Considerations To Chapter 11 Bankruptcy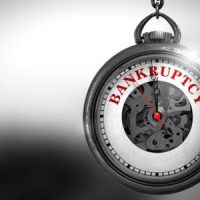 Chapter 11 bankruptcy will not work for all companies and may not even be an option for others. When Chapter 11 bankruptcy is suitable, corporations that have assets, as well as debt, can aim to make changes to their operations and reorganize. The benefit of Chapter 11 bankruptcy is that the company can be going through the bankruptcy process while still staying in business, keeping ownership of their assets, and having the opportunity to secure better financing terms. This means that employees keep their jobs and various stakeholders retain value. The company may be able to come out from under its debt and be financially healthy again.
Filing Chapter 11 bankruptcy has benefits and risks for both creditors and businesses. Even when Chapter 11 bankruptcy is successfully filed, a business may still close down. Due to the many considerations with the process and the details of the business's viability along with its total debt, Chapter 11 bankruptcy can be very challenging to complete successfully. If your business is having financial difficulties and you would like to learn more about if Chapter 11 bankruptcy will work for you, please reach out to the New York City business bankruptcy attorney Harry D. Lewis.
What Can Businesses Do Instead of Filing for Chapter 11 Bankruptcy?
Even though creditors may not be paid the full debt owed, they can agree to a new amount of debt to be paid in Chapter 11 bankruptcy. This way they may still be able to secure some of the money the company is obligated to pay them. Typically, if creditors agree to the new reorganization proposal and accept the terms they will receive incremental payments of a certain adjusted amount over a specified period of time.
If you are weighing your options with respect to handling your business's mounting debt and you are unsure if Chapter 11 bankruptcy is the right approach, think about the following:
Because of the high expense of filing for Chapter 11 bankruptcy and other factors with the process, businesses may decide to restructure their operations without court involvement and handle creditors alone. However, creditors may be very difficult to work with and less likely to be flexible with payment options.
Just keep moving forward and continue running the company just like business as usual. This may allow owners to keep pushing their financial woes off for another day with the hopes that maybe things can turn around. While it is possible that can happen, the greater likelihood is that once debt accumulates to a certain level it may be impossible to overcome and the debit is only going to be continuing to increase.
File Chapter 7 bankruptcy is a structured way to start the process of shutting down your operations. It gives creditors notice that you are closing. When you liquidate any assets you still have, the proceeds can go to paying your business's debt. Choosing to close your doors through Chapter 7 can minimize legal liabilities.
Do not go through any bankruptcy filings and close your operations down. Sell your assets to pay off what you can. This option, though, could open you up to lawsuits by creditors who are upset about their losses.
Speak with a New York City Business Bankruptcy Attorney Today
Handling immense business debt effectively is a difficult challenge for any business. If you need help figuring out what you should do with your business when you are having financial troubles, please call the New York City business bankruptcy lawyer at The Law Office of Harry D. Lewis to schedule a free consultation at 212-859-5067.
Source:
uscourts.gov/services-forms/bankruptcy/bankruptcy-basics/chapter-11-bankruptcy-basics