Involuntary Petitions In Bankruptcy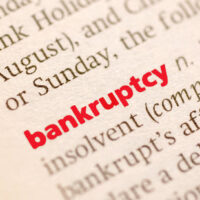 Filing for bankruptcy can help protect your business by eliminating certain debts and renegotiating payment on others. It allows you to maintain relationships with suppliers while preventing creditor harassment and additional collections actions. You may be reluctant to file for bankruptcy but it is important to be aware that if you are struggling in making payments, an involuntary bankruptcy petition could be filed against you.
What Is An Involuntary Bankruptcy?
An involuntary bankruptcy can be brought by creditors against a business. It forces them to go through the bankruptcy process in cases where business owners fail to settle their debts, despite otherwise having the resources and assets needed to do so.
Under Title 11 of the U.S. Bankruptcy Code, a creditor may file an involuntary bankruptcy petition, setting forth requirements for satisfying debts under Chapter 7 or Chapter 11 bankruptcy proceedings. A judge will review the petition and the circumstances surrounding the case before deciding on whether to dismiss it or allow the involuntary bankruptcy to proceed to court. The law allows involuntary bankruptcies against a variety of businesses, excluding the following:
Banks;
Insurance companies;
Not-for-profit organizations;
Credit unions;
Farms and family farmers.
To file an involuntary bankruptcy, creditors must show that outstanding debts of $16,750 or more and that the debtor has a habit of not making payments, despite having the ability. If there are fewer than 12 qualifying creditors in an involuntary bankruptcy petition, the creditor may file on their own. If there are 12 or more creditors to whom money is owed, at least three must be willing to join in filing the involuntary petition.
Your Options If An Involuntary Petition For Bankruptcy Is Filed Against Your Business
Similar to a lawsuit, you have a certain period of time to respond to an involuntary bankruptcy petition. The court allows 21 days before an order for relief is entered and the involuntary bankruptcy is also to proceed.
It is important to speak with an experienced bankruptcy attorney immediately if you suspect an involuntary bankruptcy petition will be filed or have received notice through the court. We can guide you in the options available, which include:
Disputing the petition: Disputing an involuntary bankruptcy petition involves investigating the viability of creditor claims against you, your payment record, the available assets you possess, and your ability to settle your debts.
Willingly filing for bankruptcy: Rather than being subject to an involuntary bankruptcy petition, you also have the option of willingly filing a bankruptcy petition through the U.S. Bankruptcy Court. This provides several benefits, which include allowing you to determine whether a liquidation or reorganization of your assets is in your best interests and preventing you from being liable for your creditor's attorney fees.
Let Us Help You Today
If you are facing the prospect of an involuntary bankruptcy, it is important to speak with our New York City bankruptcy attorneys as soon as possible to determine the best course of action. To request a free consultation, call or contact the Law Office of Harry D. Lewis online today.