Preparing For A Chapter 11 Business Bankruptcy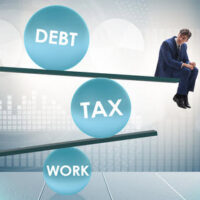 Part of owning a business is anticipating future trends. This often proves challenging, particularly when the forecast is grim. Recognizing the signs that your business is in serious trouble and taking action to avoid potentially negative consequences can help ensure your company remains open. This often includes accepting the fact that filing a business bankruptcy is the best option. Chapter 11 can provide much-needed relief and the fresh start you need to overcome current hurdles. The following details how it can help and steps you can take now to better prepare.
How Chapter 11 Business Bankruptcy Can Help You Through Hard Times
Bankruptcy is provided through the U.S Court system as a way of helping individuals and businesses deal with overwhelming debts. A chapter 7 bankruptcy, often referred to as a liquidation, is generally used when a business intends to close. In contrast, filing a chapter 11 bankruptcy petition allows you to reorganize and restructure debts, helping you navigate through hard times with your business intact. Among the benefits it can provide include:
Prohibits harassing credit collection calls;
Prevents additional legal actions, such as repossessions and lawsuits resulting in asset seizure or property liens;
Protects your personal property and prevents you from having to dip into retirement benefits or other savings accounts to bail out your business;
Helps to eliminate unsecured credit card debts;
Enables you to renegotiate terms with suppliers and rates on secured debts;
Allows you to address any past due tax returns or amounts owed to the Internal Revenue Service.
Planning For A Chapter 11 Bankruptcy
Our New York bankruptcy attorneys can help you determine whether a chapter 11 bankruptcy is the best bet for your business. In the time leading up to filing a bankruptcy petition through the New York District Court, there are some steps you can take in preparation that can help make the process easier and more efficient. These include:
Gather all legal notices, court summons, and collections letters you have received;
Get copies of all business income and profit/loss statements;
Gather tax returns for the past four years;
Get a copy of your credit report, which will show all outstanding debts;
Obtain current statements from lenders and credit card companies;
Make an inventory of all property and assets your business owns;
Estimate values for business inventory and supplies;
Consider whether you have any leased property or equipment you may want to surrender;
Gather rent, mortgage, and utility statements.
Prior to filing for Chapter 11 bankruptcy, you must also attend a credit counseling and education course and obtain a certificate of completion. Once this is accomplished and we have all the information needed, we can complete your bankruptcy petition and file it with the court.
Contact an Attorney Today for Help
At the Law Office of Harry D. Lewis, we can guide you in the actions needed to get your business back on track. To discuss your options, contact our New York City business bankruptcy attorneys and request a free consultation today.
Resource:
uscourts.gov/services-forms/bankruptcy/credit-counseling-and-debtor-education-courses