Filing Bankruptcy To Avoid Lawsuits A Common Tactic But Does It Work?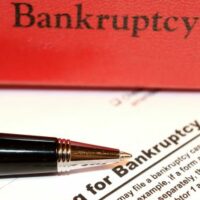 Filing for bankruptcy can help struggling companies remain in business. One of the advantages in filing a bankruptcy petition is that it can help avoid liability in lawsuits, but this practice can be controversial. Find out more about how one well known company's use of bankruptcy is coming under fire and the ways it actually can help you.
Bankruptcy Maneuver Used To Reduce Liability In Product Injury Claim
Johnson & Johnson (J&J) is a name synonymous with baby products. For decades, people have relied on their talcum powder, both in caring for infants and for attending to their own personal needs. Unfortunately, the company faces lawsuits on behalf of tens of thousands of women today who say that the talc in the powder caused them to suffer certain types of cancers. Numerous product liability lawsuits have been filed, based on claims that J&J was aware of the problem and failed to warn consumers.
According to an October 2021 National Public Radio (NPR) news report, the company is now coming under fire for a controversial bankruptcy tactic designed to reduce their liability in these claims. After being ordered by an appeals court in Missouri to pay out several billion in one set of cases, J&J spun off a new company in another state and transferred all its liabilities into it. The new company then filed for Chapter 11 bankruptcy.  While J&J is providing this new company $2 billion to settle its product liability claims, the tactic protects the over $25 billion J&J has in cash reserves.
Can Filing For Business Bankruptcy Protect You Against Lawsuits?
The questionable tactics J&J employed are increasingly being used by major corporations attempting to avoid liability in lawsuits. Legal experts are hotly debating whether the practice of setting up subsidiaries for the purpose of assuming liability and filing bankruptcy is ethical or legal. Bankruptcy laws are established federally but states have some flexibility in regards to how they apply locally. These subsidiaries are typically set up in states where local bankruptcy laws are more lenient to corporate debtors.
For small business owners, such complex maneuvers are likely not an option. However, it is important to be aware of how filing a Chapter 11 bankruptcy petition can provide legal protections in the event of lawsuits, as well as the circumstances in which it does not apply:
Bankruptcy can protect you against legal actions on the part of creditors, including foreclosures and repossessions.
Bankruptcy can prevent civil lawsuits resulting in liens on your property and other legal judgments;
Bankruptcy can help reduce your payouts in personal injury and product liability claims;
Bankruptcy does not eliminate liability from child support, alimony, or other family court-related claims;
Bankruptcy does not protect you from criminal charges.
Contact an Attorney for Help
If you are facing any type of legal action, reach out to our New York City business bankruptcy attorneys to discuss your options. Call or contact the Law Office of Harry D. Lewis online and request a free consultation today.
Resource:
npr.org/2021/10/21/1047828535/baby-powder-cancer-johnson-johnson-bankruptcy#:~:text=Johnson%20%26%20Johnson%20bankruptcy%20maneuver%20blocks%20baby%20powder%20cancer%20lawsuits%20Johnson,firm%2C%20which%20then%20declared%20bankruptcy