What Is A Creditors Committee In Chapter 11 Business Bankruptcy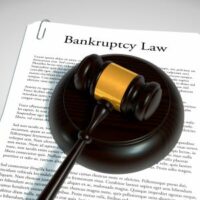 If your business has suffered temporary setbacks or is otherwise going through a hard time, filing for Chapter 11 bankruptcy can provide the fresh start you need. Often referred to as a reorganization, it gives struggling companies a chance to protect their current assets against creditors' claims, allowing them to remain in business while renegotiating payment plans on secured debts, such as leases on property or equipment and contracts with suppliers. Part of filing a Chapter 11 bankruptcy involves eliminating certain unsecured debts. To provide oversight and protect the interests of these creditors in any repayment plans that are made, they have the option of forming a creditors committee to take part in these proceedings.
How Is A Creditor's Committee Formed?
As opposed to Chapter 7 bankruptcy proceedings, which generally liquidate assets and eliminate unsecured debts in preparation for going out of business, a Chapter 11 bankruptcy focuses on negotiating a repayment plan that can help you to successfully navigate your way through temporary difficulties. It allows you to maintain important relationships with suppliers and reorganize payments on contracts and leases, protecting your ability to continue doing business and preventing repossessions, evictions, and other legal actions.
Unsecured debts, such as past-due balances on credit cards or signature loans that may have been used to start up or carry over your business, generally represent smaller amounts in business bankruptcy and can be at least partially eliminated. However, to protect the rights and financial interests of these creditors, the trustee in your case may invite them to form a creditors committee.
A creditors committee generally consists of three members at a minimum and a maximum of seven, all of whom represent the largest unsecured claims. The goal is to provide oversight in your bankruptcy proceedings and a voice to protect smaller credits from being underrepresented.
What Does A Creditors Committee Do?
A creditors committee may be selected once your Chapter 11 bankruptcy petition is completed and filed with the New York District Bankruptcy Court. Members of this committee do not represent themselves but rather have a fiduciary duty to protect the best interests of all the unsecured creditors. Their duties are likely to include:
Investigate to debtor assets and debts, as well as their actions leading up to the bankruptcy proceedings;
Investigate the debtors business, its general operations, and whether filing for Chapter 11 bankruptcy is likely to help it stay viable;
Consult with the bankruptcy trustee regarding the administration of the proceedings;
Review any important details that will factor in creating a payment plan;
Request the appointment of an examiner, if it is determined one is needed;
Participate in repayment plan negotiations, with the power to approve or object to any plans that are made.
Let Us Help You Today
Filing a Chapter 11 bankruptcy can help to save your business. At the Law Office of Harry D. Lewis, we provide the legal guidance you need to guide you through the process. Call or contact our New York City business bankruptcy attorney online and request a consultation today.