What To Do If Your Small Business Is In Trouble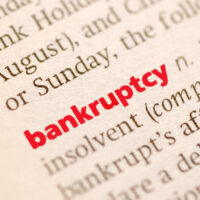 Considering all the ups and downs over the past few years, it is no wonder that many small business owners are finding themselves struggling. Fluctuations in the local or national economy, low demand for certain types of products or services, issues in obtaining adequate inventory, and difficulties in finding employees are all common issues that can create serious problems. Our New York City business bankruptcy attorneys detail common warning signs of trouble to be alert for and options that may be available.
Signs of Serious Problems In Your Small Business
According to a November 2021 US News report, small business owners are feeling increasingly pessimistic, particularly in regards to how current issues are likely to impact their bottom line. In addition to potential shutdowns due to a resurgence of COVID, supply shortages, higher prices, and problems finding workers are all causes of concern. Signs your business may be facing some serious problems in the near future include:
Decreased demand for your product or service;
Substantial drops in sales;
A lack of cash flow;
Falling behind on debts;
Being unable to fulfill contracts or orders;
Being unable to obtain needed supplies or retain employees.
Rather than ignoring the situation, it is important to adequately assess these types of issues now, the potential for positive change in the future, and the steps you need to take to protect yourself.
Finding A Solution
All businesses experience occasional problems and downturns in profits. It may be just a simple matter of riding out the current situation. In this type of case, liquidating certain assets, cutting general costs, and streamlining products or services offered may provide a solution. Lines of credit or finding additional investors may also be an option, helping you overcome temporary hurdles and get your business back on track.
In more serious cases, you may want to consider whether to file for bankruptcy through the U.S. Court system. Depending on the exact situation and your ultimate goals, there are two options available.
Chapter 7 bankruptcy: This type of bankruptcy allows you to liquidate assets, clear debts, and prevents you from being held personally liable in the event you need to close your business.
Chapter 11 bankruptcy: If you have realistic hopes of riding out the current situation, a chapter 11 bankruptcy may be the better option. This allows you to negotiate existing contracts and eliminate unsecured debts, giving you some breathing room while you wait for your business to recover.
Contact Us Today for Help
Realistically assessing the problems your business is currently facing is the first step in finding a solution. At the Law Office of Harry D. Lewis, we are here to help. With decades' worth of experience protecting clients and businesses of all types and sizes, we can guide you in the various options available. Call or contact our New York City bankruptcy attorneys online and request a free consultation today.
Resource:
usnews.com/news/economy/articles/2021-11-09/small-businesses-express-growing-pessimism-about-the-economy