How Business Bankruptcy Impacts Credit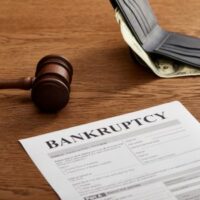 The chief objective of any business owner is to run a successful operation and increase their bottom line. But not every business endeavor is meant to be a success. Every month it is estimated that over 500,000 businesses will be formed but only 50% of them will make it to year five. Poor cash flow is a major issue when it comes to running a business and insufficient funding is the reason that 82% of small businesses will close their doors.
If you live in New York and you're a business owner whose business is struggling financially, bankruptcy may be the best approach to put your financial situation back in order. Bankruptcy could be worthwhile looking into because the process may allow you to get your business up and running again, or to have it close down efficiently which can stop the creditors from hounding you. To learn more about what would be the best approach to your unique situation, connect with a New York City business bankruptcy attorney at The Law Office of Harry D. Lewis today.
Business Bankruptcy and Credit
While there are many advantages to business bankruptcy when you are a business owner who cannot pay down their debt, going through the process does come with its own price. The strength of your credit is one of the areas of your life that will be affected by a bankruptcy filing. How your credit is altered depends on the type of business you have.
For example, the debt that sole proprietors assume affects both their business and their personal finances. This is because with this type of structure there is not a legal distinction with respect to the business and personal finances. So, when a sole proprietor goes through the bankruptcy process, their personal credit score will take a hit. The bankruptcy itself will be apparent on their credit report for many years on top of having their credit score go down. A sole proprietor can expect to see about a 120 point decline in their score.
Registered entities, in many situations, allow for owners not to have their personal credit harmed when bankruptcy happens. This is because business debt for these enterprises is distinct from the owner's personal finances. Rather, an owner's business credit report is where the impact is seen. This could present challenges to the business owner when they decide to apply for future financing or when they are negotiating a partnership with suppliers.
If a registered entity took out a line of credit, though, with a personal guarantee, then bankruptcy will affect them personally too. This is because a personal guarantee for loans ties the business owner as an individual to their business's debt.
Speak to a New York Business Bankruptcy Lawyer Today
There are options to alleviate crushing debt if you are a business owner that cannot meet your financial obligations. To learn more about what the strategy is right for your circumstances, talking with an experienced New York City business bankruptcy lawyer can be advantageous. Call The Law Office of Harry D. Lewis at 212-859-5067to to schedule a free, no-obligation initial consultation.