The Five Whys: Questions To Ask When Considering A Business Bankruptcy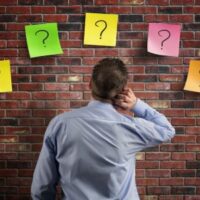 Businesses can run into difficulties for a variety of reasons. Calmly assessing the situation is key to uncovering possible solutions but when you are drowning in debts and facing harassing creditor claims, this can prove quite challenging. The 'five whys ' is a technique used in handling all types of problems and can be particularly helpful if you are considering filing for bankruptcy.
Applying The 'Five Whys' Technique To Your Current Business Problems
The five whys are a problem solving technique that was originally developed by Sakichi Toyota, with the goal of taking a more scientific approach in addressing issues. As the name implies, it involves looking at a particular problem or matter and asking five why-focused questions to get a better understanding of cause and effect. Toyota successfully applied the five whys in determining whether new product features or manufacturing efforts were needed and it has since been embraced by other businesses in a wide variety of applications.
The American Society For Quality (ASQ) encourages using the five ways to get a better idea about root causes behind different problems both individuals and companies face. If your business is in trouble, it can give you a better grasp of the reasons and whether filing for bankruptcy could potentially be a solution. Specific 'why' questions to consider include:
Why am I considering bankruptcy? While this may seem like an obvious first question, it is one often glossed over. Be specific in naming the exact reasons why bankruptcy may be the best option. Examples include being unable to meet payroll, falling behind on debts, facing legal actions from creditors, or being unable to develop a feasible budget for the future.
Why am I having problems paying my debts? Are you having problems meeting payroll or falling behind on debts due to low consumer demand, out of control operating expenses, or other causes? Did you suffer an illness that set back your business or face other unforeseen problems, such as with the COVID pandemic? Look for underlying reasons why you are unable to pay your current debts.
Why does this situation exist? Do you have more employees than you need? Are you carrying too much stock? Do you need to renegotiate certain contracts, attract new investors, or create a new business plan?
Why can't the problem be resolved? What is standing in the way of taking the steps needed to improve your business?
Why would bankruptcy be a good solution? Consider your options in terms of the different types of business bankruptcy, how it might fit your needs, and whether there are any other feasible solutions.
Let Us Help You Today
As part of the problem solving process, it is important to find out exactly what your options are in terms of filing a business bankruptcy. To discuss your case and how we can help, call or contact the Law Office of Harry D. Lewis online and request a free consultation with our experienced NYC business bankruptcy attorneys today.
Resource:
uscourts.gov/services-forms/bankruptcy/bankruptcy-basics